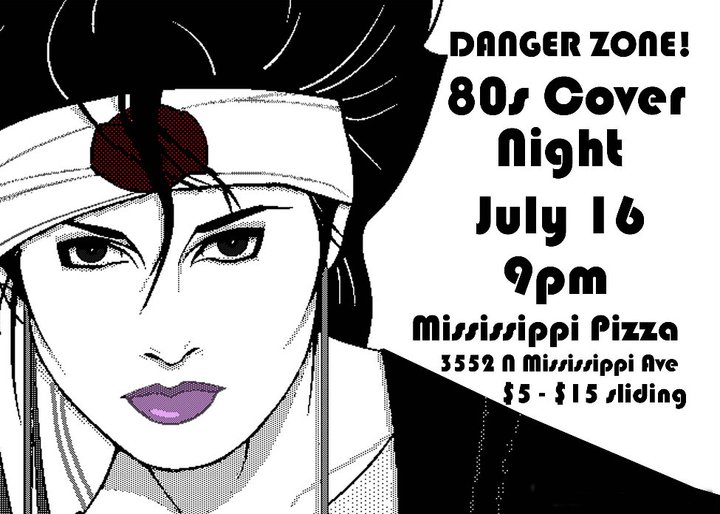 DANGER ZONE! 80s Cover Night
A Benefit for Electrogals
At Mississippi Pizza
3552 North Mississippi Ave
Portland, OR
Saturday, July 16th
Doors at 8pm, Show 9pm - Midnight
$5 - $15 sliding scale at the door
21 and Over

Come hear some of Portland's best and brightest female artists present their own unique spin on iconic 80s bands like The Talking Heads, The Cure, Nirvana, Patti Smith, a-ha, Devo, The Bangles, Concrete Blonde, Romeo Void, New Order, Kenny Loggins, Billy Idol, Connie, Eurythmics, Debbie Deb, The Pretenders and Grandmaster Flash!

Featuring: Christi Denton, Myshkin, Heather Perkins, Rasheeda & The Cheetah, The Sexbots, Some Strange Muse (Sylvia Hackathorn and Beth Harrington) and Sugar Shortwave!

This event is a benefit for Electrogals, an organization dedicated to promoting female electronic music composers and performers. This benefit helps fund our week-long festival, including electronic workshops, lectures, sound installations, and a listening room, ending with two riveting evening performances. Electrogals 2011 will be held at Disjecta in North Portland from October 8-14th. Recent Electrogals shows have included our May 2011 collaboration with Mike Barber and Ten Tiny Dances ("Five Tiny Dances Featuring Electrogals") at BlueHour, our RACC-funded 2010 Festival at Disjecta in June 2010, and a knockout 2008 festival that filled both stages at Holocene.

Also on offer: 'Electrogals' T-Shirts, contributing artist CDs, and a raffle for 80s cassettes as well as amazing prizes donated by local businesses! And as always, Mississippi Pizza provides delicious food and drink. So, feather your hair, rustle up some shoulder pads, and prepare to enter the DANGER ZONE!